"The ultimate goal of farming is not the growing of crops, but the cultivation and perfection of human beings". – Masanobu Fukuoka.
India is a country bestowed with rich biodiversity and natural resources. India is the second largest producer of fruits and vegetables in the world. And this year estimates say that 273.38 MT of food grains has been produced in India which is higher than the previous year (265 MT). When such a huge quantity of food products are being produced in our country, farmers i.e. the producers must enjoy a happy and better life, isn't it?
THE IRONY
But the irony is with increase in food production, farmers' suicides are increasing day–by-day. About 11,400 farmers committed suicide in 2016 according to the reports released by Union Agricultural minister.
What happened to the technologies that are intended to eliminate the plight of farmers? Every time a new "high yielding hybrid" variety is released, the breeders and the scientists would promise that their "inventions" would bring a lot of change in farmers' life. Well, it turned out to be true, but not in a pleasing way. The improved varieties, hybrids, GMOs, enriched fertilizers, pesticide formulations, synthetic hormones, automated equipments, protected cultivation technologies and what not. All of them have "changed" farmers' life by making them a victim of debt.
As agricultural graduates, we need to accept the fact that so far, we are not able to provide a real sustainable solution to our dying farmers. With around 60 agricultural and allied universities, 45 ICAR institutions, 17 national Research Centres (NRC), 6 National Bureaux, 25 Directorates of different crops we could not save a man who dies holding his crop close to his heart. What are we missing?
THE PITFALLS OF MODERN SCIENCE
Isn't it the need of the hour, to put aside our acquired beliefs gained through out-dated, British education system and our ego and try to have a holistic approach towards farmers and farming? The problem with the modern science is that it lacks holistic approach. It disintegrates things into different departments and concentrates only on one issue at a time. This approach may be successful in other fields, but not in agriculture. Agriculture is an integration of things. It is the integration of different life forms. Generalized recommendations of fertilizers and other agrochemicals are not going to help farmers due to the fact that, agriculture is location specific. They might help agrochemical manufacturers. This has to be understood by the agricultural graduates of the present generation and I wish them to act in a proactive way.
CONSEQUENCES OF CONVENTIONAL FARMING
We must use science and technology smartly without damaging the ecology. Because we cannot remain ignorant, even after visualising the severe repercussions  of using immense amount of synthetic inputs in agriculture.
Click here to know more about the impacts of pesticides
For instance, Fruit borer in brinjal is a serious problem. The usual recommendation given is the spraying of Dimethoate 30% EC @ 7ml per 10 lit of water. But in practical, farmers use 10 – 20ml/10 lit which is not only lethal to the target pest but also to a number of beneficial organisms associated in the crop production cycle. But the problem does not end here. Even after applying more than the recommended levels, the insects will develop resistance towards the synthetic compounds and continue to damage the crops.
The bitter reality is farmers mostly spray these deadly chemicals just before the day of harvest to save their crops. Even with the availability of insect resistant varieties and integrated farming, farmers are simply not adapting to these changes. On the other hand, agrochemicals are easily accessible to even a marginal or small farmer. Hence poor farmers, whose entire family is dependent upon a small piece of land, borrow money to save the standing crop and become a victim of debt. This is the ground reality out there. The solutions that are offered to the farmers are temporary.
WHAT IS THE SOLUTION
We, the millennial generation, if guided properly could probably go a step further and find a sustainable solution to the never ending problems of the farming community. The right direction would be always to choose the path of nature. Fortunately, we have pioneers who travelled in this path and showed the limelight in the natural way of living. One such legend is Dr.Nammalvar, agricultural scientist, environmental activist and Indian green crusader who put light on the inhumane killing of bio-diversity in the name of farming. He travelled across Indian villages till his demise to educate farmers and youngsters regarding the cruel side of money- based conventional farming and taught the natural way of farming.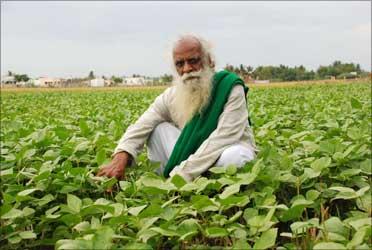 It is because of his tireless efforts, youngsters across the state are showing interest in organic farming, which is the only solution to feed the hungry mouths without poisoning Mother Nature. Natural way of farming is a holistic approach, which works with understanding of nature, the biological cycle and the bio-diversity. This way of farming takes into account the relationship between the microbes, plants, insects, reptiles, birds, animals, human beings and the complete network of life forms. This requires a deeper understanding and belief which is overlooked by the modern science.
This article is a tribute to Dr.Nammalvar, who has inspired thousands of people across the country including myself to pursue the path of self-sustainability. His primary goals are to provide,
Poison-free food for all

Drug free treatment

Wall-less education system
Which are closely inter-related and are the necessities to overcome the issues we are facing today in different dimensions.
"Assessing everything without likes or hatred are the emerging younger generation. "Mere fate" – is not acceptable to them. They will change this world. Today, a youngster army has gathered. If we put forward our opinions towards the youngsters, we can bring back the lost prosperity of our nation; we can bring back disease free life style. Everybody can live with happiness and harmony."                                                                                 -Dr. Nammalvar.