App Title : Surya Mitra
App URL : https://play.google.com/store/apps/details?id=pragyaware.nise
App Launched by : National Institute of Solar Energy (NISE)
Surya Mitra Mobile App provides Installation, Services and Repairs of Solar PV Power Plants and Solar Water Heating Systems at Customer's Door Step.  It has been released by National Institute of Solar Energy (NISE), an autonomous institution of Ministry of New and Renewable (MNRE) Govt. of India.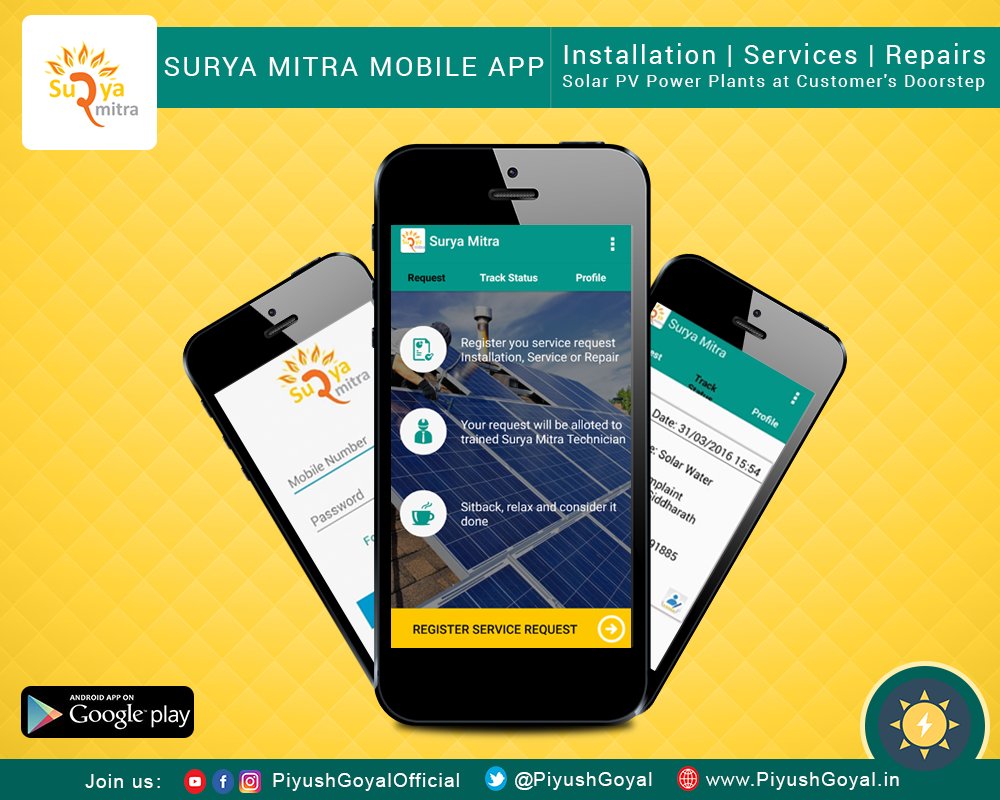 It is a GPS based Mobile app which can be downloaded from the Android/Google Play store Free of Cost across India. Whenever people need any service or repair of their installed Solar PV systems and Solar Water Heating Systems they can use this app which will send the message to nearest Suryamitra who is a trained Solar personal to attend to the problem immediately. The purpose of this app is to reach the customers who plans to install a small SPV power plants or to get maintenance/repair of their existing SPV systems.
This innovative mobile approach shall enhance the employment of trained youth in solar PV technology and also improve the businesses of solar entrepreneurs because quality servicing, maintenance and repairing professionals are now available to customers at the click of a button on their mobiles.
NISE has checks and controls in place to ensure that all Suryamitras offer quality service at reasonable price to their customers. NISE has fixed a price Rs 150.00 per visit as a charge for Suryamitra Services.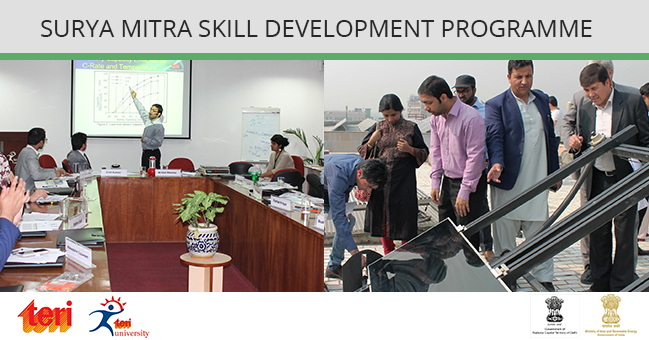 Reason for creating this app
NISE assists the Ministry in implementing the National Solar Mission and to conduct research and build innovative technology related to Solar Energy. Suryamitra skill development program is a leading program under Honourable Prime minister 's "Make in India" program. Government has set a target for achieving 100GW of solar capacity by 2022. It is estimated that to achieve this goal of 100GW and for maintaining it we need skilled workforce. It is one of the prime objectives of NISE to create and train at least 1 million skilled solar work force to help the development of solar energy and also create a million jobs for the unemployed.
Image Source: http://cdn.apk-cloud.com
In line with this objective the NISE proposed "Suryamitra" skill development program which provides skilled technicians for installation, commissioning, Operation & Maintenance in the field of solar technology. The main objective of this program is to train the youth who have passed 10+2, ITI/diploma as field technicians to execute National Solar Mission (NSM) programs across the country.
NISE is identifying a network of institutions through State Governments to conduct training programs, and also monitoring them for proper execution. Also in collaboration with State Government Energy departments, at various locations across the country. The duration of this skill development program is 600 hours (Approx. 90 days) with more emphasis on practical part (about 70%). This is a residential program and it is completely free including boarding and lodging. Suryamitra Skill Development Programs are sponsored by Ministry of New & Renewable Energy, Govt. of India.
How it works?
Register the app with the mail-id, and mobile number. Then you will get an OTP which will be your password. Every time you have to enter that OTP

Register your service request for Installation, Service or Repair for Solar PV and Solar Thermal Systems.

Then your request will be allotted to a nearest and trained Surya Mitra Technician.

Hereafter, you guys Sit back, relax, and consider it done. Even you can track your status of request.
Image Source: http://cdn.apk-cloud.com
Suryamitras with the help of NISE will ensure standard functioning and servicing of PV and thermal systems to all customers. Most of solar Installers and Vendors might not be come for the service issues. But Surya Mitra trained ITI and Diploma graduates will be provided with an opportunity to solve the technical issues of solar gadgets. So, they will come to help you and they can earn some money. So make no delay go solar go green with the help of suryamitras.