App Title : GARV (GRAMEEN VIDYUTIKARAN)
App URL : https://goo.gl/7XP0zl
App Launched by : Rural Electrification Corporation Limited, Government of India

Rural electrification has been an enduring challenge for successive governments. Given India's federal structure, States provide last-mile connectivity which includes providing access to and distributing electricity, and maintaining infrastructure, while the Central government provides policy and financial support.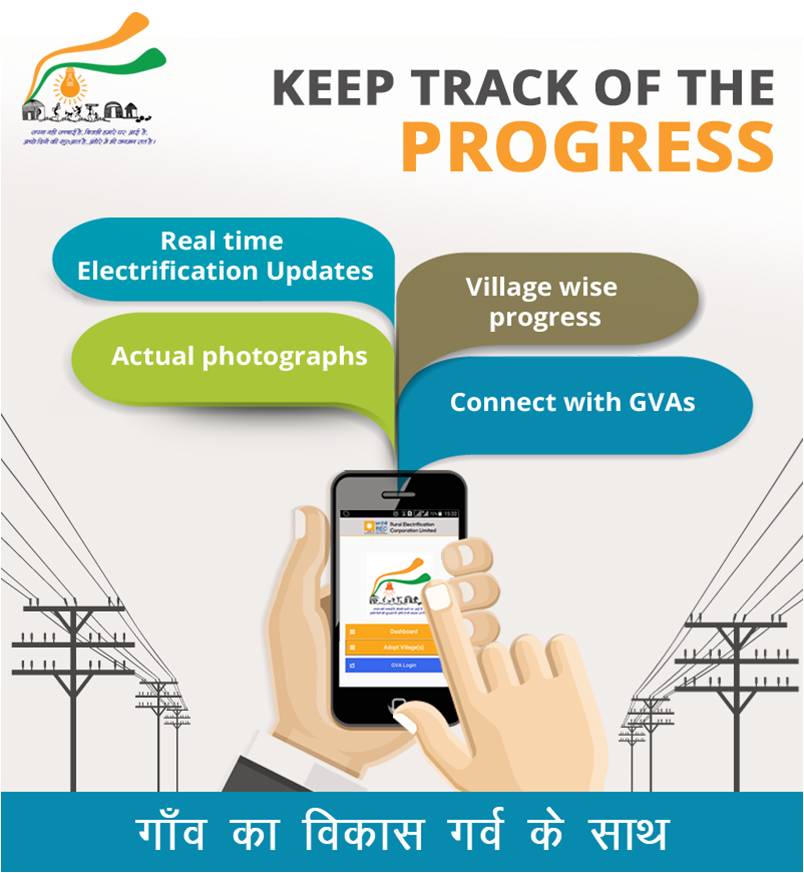 The Inspired concept of this Mobile Application is that un-electrified villages present an enormous challenge as they are often located in inaccessible or left-wing extremism-affected areas. Over the last five years, there has been a rapid decline in the pace of rural electrification to only 5,189 villages. Several States, particularly in eastern India, have seen even lower levels of electrification.
For instance, in 2012, Uttar Pradesh electrified just 64 villages against the 1,518 that were sanctioned while Bihar electrified only 1,248 villages against the 9,246 that were sanctioned. The slow pace meant that this task would require more than a decade. Due to such tardy performance in the States, the National Democratic Alliance government launched the Deen Dayal Upadhyaya Gram Jyoti Yojana (DDUGJY) to ensure rapid electrification, feeder separation, and strengthening of rural distribution infrastructure. It is necessary to monitor progress intensively for smooth and fast implementation of electrification.
On August 15, 2015, Prime Minister Narendra Modi announced that all the remaining villages would be electrified within 1,000 days. Based on Census 2011, States had provided a list of 18,452 un-electrified villages as on April 1, 2015. To transparently monitor the process, the Central government, in November 2015, appointed 309 young and passionate Grameen Vidyut Abhiyantas (GVAs or rural electrification engineers) from the same areas. Reports by these GVAs are shared through the GARV (Grameen Vidyutikaran) app with officials as well as the public. It puts pressure on State governments for timely and quality delivery.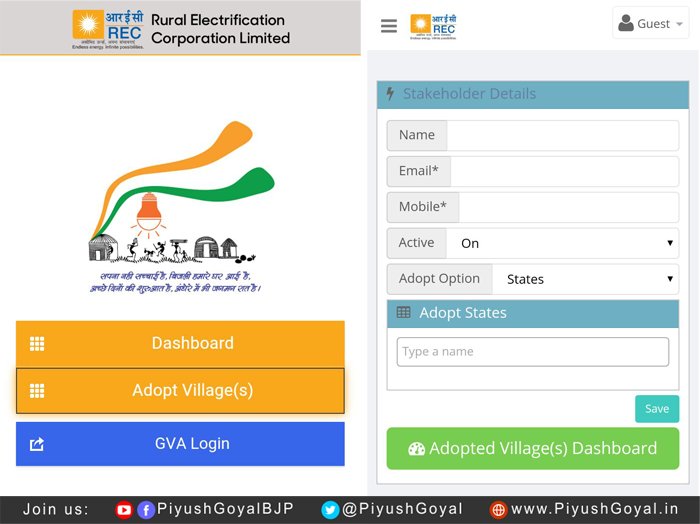 Transparency in rural electrification brought to fore a number of issues which were traditionally swept under the rug. Villages are electrified as per the old 10 per cent household connectivity criterion, but the Central government aims at connecting 100 per cent households of the 18,452 villages. Habitations with less than 100 people (Dhanis, Majalas, Tolas, etc.) outside revenue villages were not even included earlier, but are now electrified.
Prior to GVAs, only data provided by the States was available, which in many cases does not represent ground reality. GVAs provide a verification mechanism in a bold, transparent, and reliable manner. We are delighted that the media is taking an interest in tracking rural electrification.
The Grameen Vidyutikaran app lets anyone track the progress of rural electrification in India through a real-time dashboard. Launched by Rural Electrification Corporation Limited, the app is available for Android users. The dashboard presents the total number of un-electrified villages, details the status of the un-electrified villages and the work in progress – whether they've been surveyed or if work has yet to start. A Milestones tab displays the percentage achieved against the number of days left, while a progress bar shows the number of villages electrified on a weekly basis.
In a move that will increase transparency, GVAs directly capture the electrification data on the app with subsequent state government confirmation, instead of the data first coming from state governments. With the GARV dashboard recently becoming multilingual, citizens can also keep a tab on the mission in their native languages.
Some features of the app are as follows:
Users can see the total number of unelectrified villages on the dashboard

The dashboard is multilingual and thus user-friendly

They can also see which villages will be electrified next

Progress status of a particular village can also be checked using the app

Milestone tabs display the percentage of target achieved as against the number of days left for completion
| | |
| --- | --- |
| Total serviceable area | All-over India |
| Language supported | English |
| Suitable for | Android (version 4.0 and up) |
| Size | 3.64 MB |
| Current version | 3.1.12 |
Thus, the GARV app aims to bring out robust changes in rural electrification by ensuring transparency in implementation. GARV app is an example how "mobile governance" can bring out grass root level changes that literally lights up every household.
Reference : Rural Electrification Corporation Limited, GoI